If you have a passion for cooking, you understand that improving your craft requires constant experimentation. Although you may be content with how a meal tastes, pushing to try something new to improve the formula can yield impressive results. The NEFF T46PD53X2 Induction Hob is the truly embodies this philosophy.

Although traditional hobs can provide great results, by focusing on improving current technologies, NEFF has been able to design a product with a wide range of features that make cooking a breeze.

This review from Leeds Gas Showroom will explain just a few of the great features of the NEFF T48FD23X2 Hob that make it the perfect choice for your kitchen.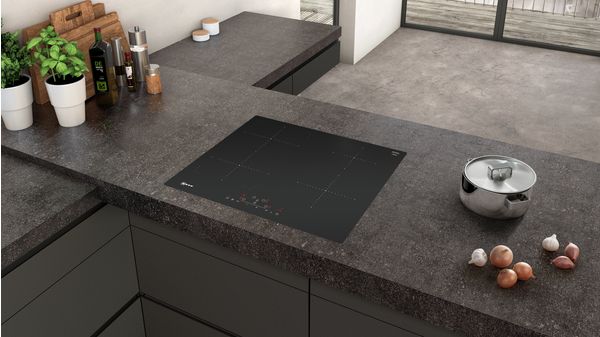 Although it may not be considered a feature, the quality of the construction for this hob is second to none. With a modern and sleek black glass finish, this hob will perfectly complement any contemporary kitchen. This hob sits flush with your kitchen counter with an incredibly smooth finish that is sure to impress your guests.

The NEFF T46PD53XD is an induction hob with 4 zones for precision cooking. With space at the front for boiling, and space at the rear for keeping your food warm. The zones can also be combined into a combi zone providing you with the entire surface to cook larger meals. PanBoost also allows you to rapidly heat the hobs up in no time so no time is wasted waiting around.

Each zone has 17 levels of heat, giving you precision and control, for a perfect meal every time. TouchControl allows for control of the hob at the touch of one button. By heating the surface directly, the level of precision is unparalleled, with the ability to turn off the heat as soon as the power is off. With the Restart feature, you can pause the heat at any time you wish, your hob will reheat to the previous level with one touch. This is incredibly useful if you need to step out of the kitchen at any point.

Safety is also important, for this reason the hob is fitted with a safety lock to ensure that wandering hands do not turn the hob on accidentally. With automatic pan recognition the hobs will only heat when they are required to. To help you monitor the heating level, there is also a display that will show this as well as the energy usage of the device. Helping you to control the output of the hobs.
To find out more about the T46PD53X2 Hob contact us at Leeds Gas Showroom, and for information on our flexible delivery options in the

Leeds area

. Call us today on 0113 243 6766, or
if you wish to find out more about the
T46PD53X2 Hob
visit our website for more information.