Now is a better time than any to begin to perfect your cooking skills. Even if your isolation is more to avoid the craziness of shops rather than for health reasons, it's great to spend your time indoors productively. If you and your family are taking things a day at a time then finding a new dish to keep them fed and spirits high is certainly a worthwhile investment.

While right now the first step is likely the hardest, that is sourcing ingredients and getting to the front of the line at the supermarket, its not always the case. Normally selecting your produce is the simplest and often most forgiving part of the process, its when you return to cook things up that mistakes are more easily made. Achieving great results is a balancing act between great ingredients, cooking talent and the tools you use to make it happen.

When cooking at full stretch it can also be tricky to keep your environment hospitable. This means keeping your work station clean and ensuring that the air is free from steam, smoke and odours are important. Residual smells not only slip into fabrics in your kitchen but also inhibit your ability to smell the finished food once ready. How do you keep your kitchen's air clean? A great cooker hood is key.

Often seen as little more than added furniture to your kitchen, in fact a hood is just as important as your other appliances. If you're looking to upgrade your cooker hood you would be hard-pressed to find a more suitable brand than NEFF.

Long known for its outstanding German build quality, NEFF has been the number one for choice for foodies for decades. Home chefs covet the brand not only for this but also for it's exclusive, creative features that make cooking that much easier. In this review, the team at Leeds Gas Showroom run through everything you need to know about one of NEFF's finest cooking hoods, the I95CAQ6N0B.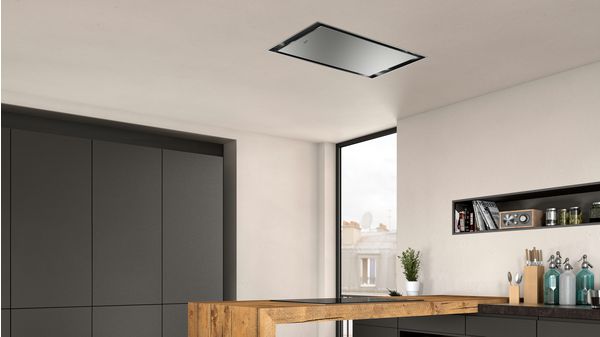 Cooking in Maximum Comfort

Adding a splash of style to your kitchen, this ceiling hood not only adds to a modern kitchen but is unobtrusive. For larger open plan kitchens this design style is ideal, and the higher rate of extraction also means that even the air in a big space is cleared quickly. Despite the higher position of the cooker hood, NEFF has made it simple to use in multiple ways, allowing you to keep control.

Firstly this model comes with a remote control which means adjusting extraction and lighting settings is simple and quick. For an even more seamless control you can also utilise NEFF's smart feature Home Connect. With it on Android or iPhone simply downloading the app gives you full control of extraction, making keeping your kitchen smoke and odour free easy.

Finally with a compatible NEFF hob you can actually control this model directly from your hob control panel. This allows you to sync up to your cooking easily and means you can activate extraction quickly to remove any steam, smoke or odours.

Maintaining a pleasant environment doesn't even mean having to run the I95CAQ6N0B for hours at a time. Interval ventilation can be set on the app or via the handy remote that's included. This means your kitchen is always full of crisp, clean air. Say goodbye to stuffy kitchens, or that dreaded mildew smell that can build up overtime.

Even when you need to extract when entertaining, to keep the environment pleasant, the NEFF is perfectly placed to do so effectively and efficiently. The EfficentDrive motor keeps things quite, with a running noise level of 56dB in normal running and up to 68dB when intensive.

In total the NEFF I95CAQ6N0B offers 5 levels of extrication dependant on your needs. This breaks down into 3 normal levels and 2 intensive, so no matter your level of cooking you can get your air clean and your kitchen back to a pleasant place to be.
To find out more about the NEFF I95CAQ6N0B Hood contact us at Leeds Gas Showroom, with flexible delivery options in the Leeds area. Call us today on 0113 243 6766, or if you wish to find out more about the I95CAQ6N0B Hood visit our website for more information.